I know this not because I looked at the date of my last post…but I notice that I posted at day 98 of my 100 day challenge. That was well over 100 days ago…
I've lost count of the new number…I just know that I've missed working out less than 10 days so far this year. I'm thinking #307 (this year's goal) is going to happen easily. I, fingers crossed, hopefully will not have the same anxiety about meeting it as I was at this time last year!
So…since April, huh?
What have we been doing since then?
Well the list goes something like this:
Disneyworld, Dance Recital, Finishing first grade, Finishing year one of preschool, Trips to the hospital with Evan, Mom turned 35, Evan turned 5, Trips to grandma's, A Trip to the State Fair, Swimming lessons, The Color Run, The Dirty Girl mud run with my sister, several other 5k's, One fabulous trip to Arkansas with friends, a grand total of 8 lost teeth, fishing, The first day of second grade, The second first day of preschool, Wartburg homecoming
and here we are in October…almost the end of October.
Just in time for Halloween – my absolute favorite holiday! Nathan and I didn't get much into the spirit of dressing up this year – honestly, I think it just got away from us. The kids are having fun with their costumes though – and it's making us all want a return trip to Florida!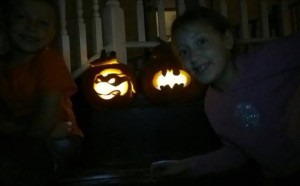 I can't promise that I'll update any more frequently…although I know there are family members and friends who read this blog and tell me they enjoy seeing what we've been up to. I'm a whole lot better at posting pictures and updates on facebook!